Care Homes
Smarta Healthcare can help you support the ever-changing and complex needs of your patients
We help carers, care homes, assisted living residences, hospitals and GPs, provide medication effectively to their patients through innovative solutions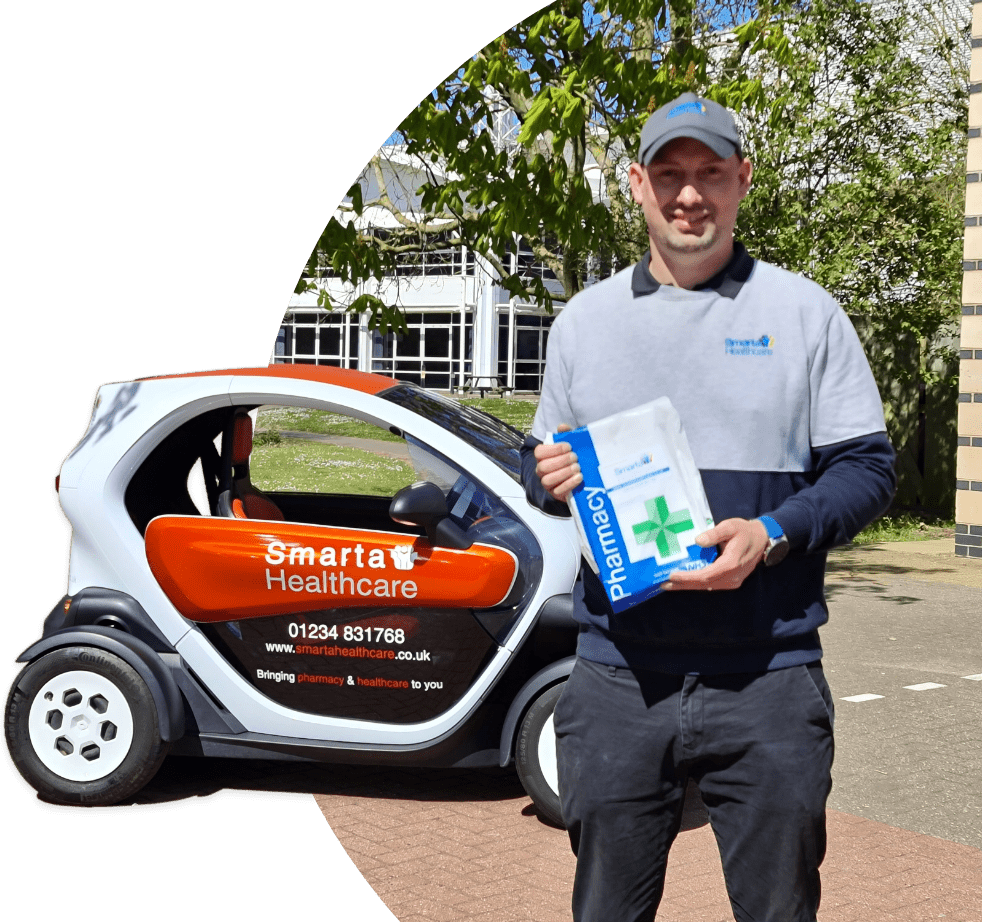 What We Do
If you're working in primary, secondary or any other type of healthcare, our medication management program make sure that your patient's medication is managed safely and effectively. We can help you adopt the latest electronic technology (eMAR) and set up easy to use coloured MAR sheets. We also offer specially-designed MedsTrays (dosette boxes) to help you mange your patients' complex medication routines.
Out of Hours Support
Our out of hours support is especially useful to medical staff when other pharmacies may be closed. We can provide emergency prescriptions as well as free and fast delivery. We'll even take care of NHS paperwork and liaison with GPs.
Staff Training
We offer bespoke training days run by our expert pharmacists to help keep care professionals up-to-date with the latest drug information, guidelines and legislation.
Medication Management
Our medication management program looks after every aspect of your patient's medication, from dosage management to disposal of unused medicines.
Always compassionate in our delivery, we can help to reduce the strain on your time and resources.
Our dedication expert team will respond quickly to your patient's medication needs.
Our care home pharmacy service can be tailored to suit the needs of your care or nursing home settings
eMAR integrations
Smarta Healthcare can support you in the transition switching from paper based to electronic administration record (eMAR).
Administer medication quickly and safely while reducing administration, wastage and record keeping, all in line with current regulations.
We will work with you to identify the needs or your care or nursing home, and implement the right eMAR solution that works you and your staff.
We also offer training days to help keep residential staff up-to-date with the latest drug information, guidelines and legislation.
Coloured MAR sheets
We can provide colour coded and photo-labelled packaging for mare accurate dispensing of medication.
All medicines dispensed will be supplied with pre-printed paper MAR charts with the cycle times, relevant clinical information, and known allergies.
Clear, concise and easy to understand.
Fully compliant with regulations.
Other charts such insulin, topical charts are available.
Safety training and audit
We can help keep your staff up-to-date with the latest drug information, guidelines and legislation, through bespoke training days run by our expert pharmacists.
We offer face to face training or e-learning platform courses for Medicine Management.
We also provide condition-focused training, such as dealing with long term condition conditions like diabetes, hypertension, dementia.
CQC Audit Support: We organise pharmacy audits that comply with Care Quality Commission audit regulations to help you keep your high standards.
Out of hours support
We can support you and your staff with out of hours medication advice and delivery.
Acute medication such as Antibiotics or Anticipatory meds can be delivered same or next day (depending on when the prescription reaches us).
Medications can be delivered to care homes outside normal working hours.
MedTrays and Safety Devices
Our MedTrays have been designed to be as clear and simple to use as possible.
Easy-to-understand designs display what each tablet looks like and when to administer them.
Ideal for complex medication routines, they greatly help to reduce the risk of medication error.
We also offer safety devices such as automated dispensers.
Physiotherapy
Our physiotherapy services include post-operative and post- fall rehabilitation, as well as services for people with memory issues.
We offer physiotherapy treatment tailored to your patients needs, to help them maintain their independence and improve mobility.
Benefits of using our Care Home Services
At Smarta Healthcare we understand that each care home has unique requirements and needs a tailored approach to Care Home pharmacy solutions.
We differentiate ourselves by the care and attention we pay to every detail, offering the flexibility of a small provider, combined with the support and training capabilities of a larger chain.
Our specialist services include:
Prescription collections from surgeries and care homes
Out of hours support and delivery of acute medications.
Implementation of any mid-cycle changes or medicines (antibiotics on doctors rounds) on the same day, with MAR charts.
A dedicated healthcare professional as a single point of contact for your care home
Liaison with surgeries and hospitals on behalf of your care home.
Annual Flu and Covid-19 Vaccines for patients and staff
Talk to us at Smarta Healthcare
We understand that each care home has unique requirements and needs a tailored approach to Care Home pharmacy solutions
November 15th 2023 Smarta Healthcare
AskMyPharmacist: The Importance of Self-Care 
Self-care is a crucial aspect of maintaining our overall health and wellbeing, encompassing both physical and mental aspect
October 26th 2023 Smarta Healthcare
Smarta Healthcare wins prestigious pharmacy industry award! 
Smarta Healthcare pharmacy superintendent, Baljit Kaur, has been awarded the Pharmacy Business Development Award at the Pha
August 29th 2023 Smarta Healthcare
Smarta Healthcare sponsors Bedford Running Festival  
Bedford Running Festival will take place at Russell Park, Bedford on the 2nd and 3rd September 2023. The festival will have