About Us
Bringing Pharmacy and Healthcare to you
We believe that medicine and healthcare should be accessible, easy and safe for everyone. We pride ourselves on delivering the very best in patient care.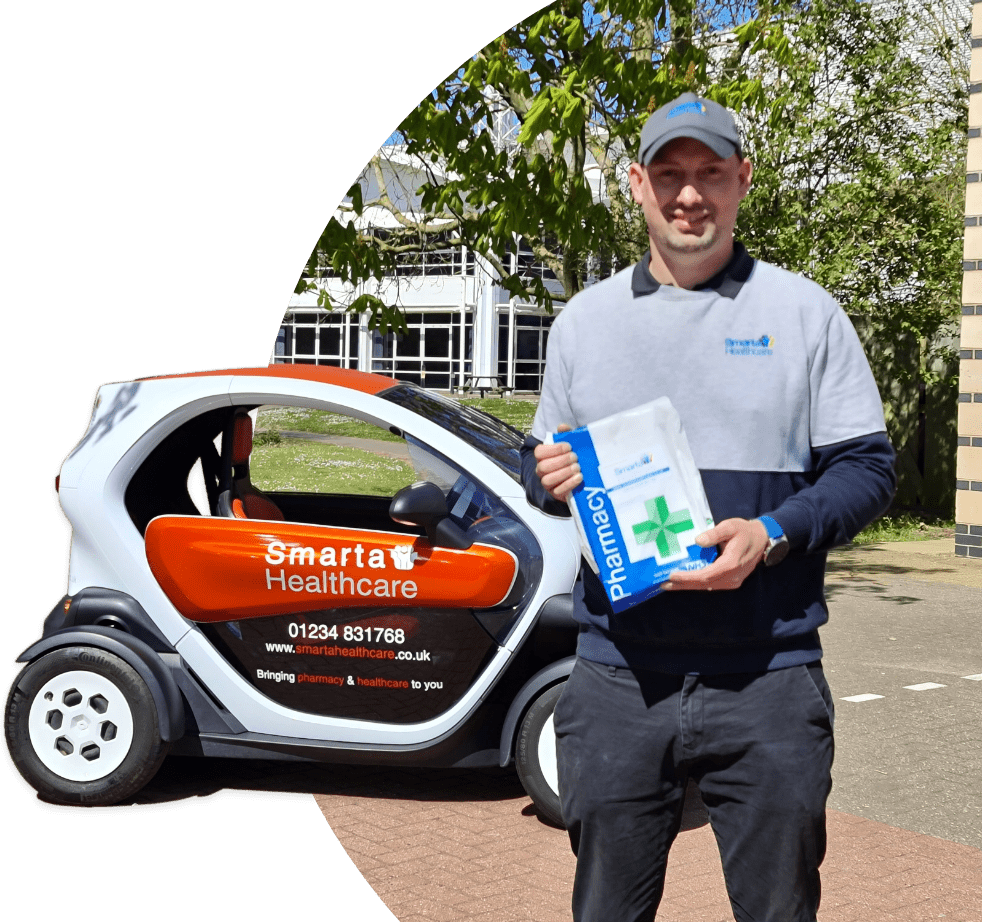 What We Do
Smarta Healthcare offers a range of Pharmacy and Healthcare services for patients, carers, businesses, residential and care homes, GPs and hospitals.
Contact us
Pharmacy
We are an award-winning NHS approved pharmacy dispensing hub. We're experts in medication management and dispense and deliver NHS and private prescription medicine to hundreds of people and healthcare professionals in our local community.
Healthcare
The Smarta Healthcare clinic provides a place for the community, businesses and healthcare professionals, to access a range of services to improve people's health and wellbeing.
Patients and carers
We provide a friendly and informative environment to easily access pharmacy and health services to help people lead a healthier and happier life.
Businesses
We offer employee health services to help businesses provide safe and healthy working environments for their staff.
Healthcare professionals
We help carers, care homes, assisted living residences, hospitals and GPs, provide medication effectively to their patients. We also assist hospital staff with the emergency administration of prescriptions to speed up the patient 'discharge' process, saving time and money for the NHS and social care teams.
Our vision
We aim to bring medication management and healthcare back into patients homes so they can live independently and safely for longer.
Our Philosophy and Values
We put medication dispensing at people's fingertips to make it accessible, quicker and safer for everyone.
We are committed to providing the best service possible to all our customers.
The professional approach of our people and their expertise will contribute to a significant reduction in paperwork, waste, duplication and over ordering.
Our determination to be pro-active, dynamic and patient focused will help us reform healthcare provision and strengthen the role of pharmacy in the community.
Work with us
Our team has one overriding objective – to deliver the health needs of each and every patient with compassion and efficiency.
Current Vacancies
The Smarta Healthcare team is growing. Help us shape the future of pharmacy and healthcare.
If you are interested in working with us, but don't see a current vacancy, please email your CV and details to [email protected]
Pharmacy Logistics Driver
Job details:
By joining Smarta Healthcare you will be a part of the fundamental infrastructure needed to deliver excellent patient care service…
Baljit Kaur
Pharmacy Superintendent
Harjinder Singh
IT Director
Our packaging and specially-designed MedTrays are made from 100% recyclable packaging
Throughout the year we support local and national charities through fundraising and awareness campaigns
Wherever possible we deliver medication to our patients using our energy efficient Smart car
We work with healthcare teams to help reduce their paper usage by switching to digital services such as eMAR
We dispose of all unwanted medicines safely – contact us to find out more
We're proud of the connections we have with local organisations, social workers, charities, community nurses and GPs
Corporate Social Responsibility
Our purpose is to bring healthcare to all at the right time and the right place, to help build healthier and happier communities.
We strive to always be respectful, responsible and honest with our employees, partners, stakeholders and communities and to make a positive contribution to our society and the environment.
Sustainability
We've partnered with Ecologi to reduce our carbon impact.
We hope to provide a meaningful way of reducing our carbon impact, to protect the planet for future generations to enjoy.
Each team member's carbon emissions will be offset, including their travel, home-living, food, holidays and even hobbies.
The partnership will also help fund climate solution projects throughout the world, and a Smarta Healthcare forest will be planted.
Contact Smarta Healthcare
Get in touch to find our more about our services
Or call us:
Our Awards
Our purpose is to bring healthcare to all at the right time and the right place, to help build healthier and happier communities.
Check Out Our latest News and Posts
October 26th 2023 Smarta Healthcare
Smarta Healthcare wins prestigious pharmacy industry award! 
Smarta Healthcare pharmacy superintendent, Baljit Kaur, has been awarded the Pharmacy Business Development Award at the Pha
August 29th 2023 Smarta Healthcare
Smarta Healthcare sponsors Bedford Running Festival  
Bedford Running Festival will take place at Russell Park, Bedford on the 2nd and 3rd September 2023. The festival will have
May 22nd 2023 Smarta Healthcare
AskMyPharmacist 6 Frequently Asked Questions about High Blood Pressure 
Raised blood pressure is the number 1 cause of preventable death in the world, and an estimated 1 in 3 people in the UK hav